My To-Be Read List is a meme hosted by Michelle @Because Reading. I think it's a fabulous idea because it gets y'all in the game and it helps me knock off some of the many, many books on my TBR list. You're more than welcome to join in the fun! I've included the basic rules below but you can click on the graphic above to hop over to Michelle's site where you can find all the details.
Here's how it works:
On the first Saturday of each month, I will make a post with three books from my TBR List (these books can be already on your ereader or bookshelf OR books you might want to purchase) and add your link on the linky that will be provided on Michelle's post. Y'ALL will help me choose which book I will read next. The following Saturday, I will announce which book won. Then the last Saturday of the month, I'll post my review.
Fun, right?!?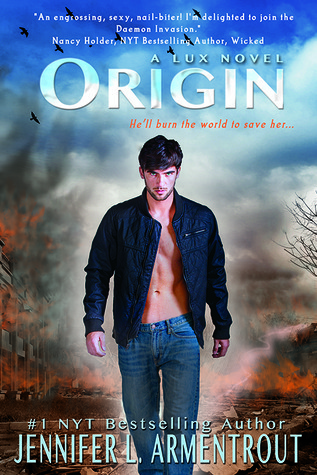 Origin by Jennifer L. Armentrout
Lux Series #4
Release Date: August 27, 2013
Genre: YA Paranormal Romance
Source: Purchased paperback
Rating: 5 Bookworms
Goodreads
Synopsis
Daemon will do anything to get Katy back.
After the successful but disastrous raid on Mount Weather, he's facing the impossible. Katy is gone. Taken. Everything becomes about finding her. Taking out anyone who stands in his way? Done. Burning down the whole world to save her? Gladly. Exposing his alien race to the world? With pleasure.
All Katy can do is survive.
Surrounded by enemies, the only way she can come out of this is to adapt. After all, there are sides of Daedalus that don't seem entirely crazy, but the group's goals are frightening and the truths they speak even more disturbing. Who are the real bad guys? Daedalus? Mankind? Or the Luxen?
Together, they can face anything.
But the most dangerous foe has been there all along, and when the truths are exposed and the lies come crumbling down, which side will Daemon and Katy be standing on?
And will they even be together?
Holy glowing aliens! I could never have guessed at the events that occurred in Origin or the direction those events would take Katy and Daemon. Y'all told me Origin was epic. It absolutely was! And I'm beyond anxious to see where this firestorm will lead Katy, Daemon, and company.
Origin begins with Katy a captive of Daedelus and y'all, I could not believe the things Katy endured at their hands. Thank goodness Katy is so strong - I'm not sure I could bounce back from some of that stuff even if I had Daemon to help. Daemon's rescue plans were pretty genius, honestly. But I worried how he'd deal with finding out all Katy had experienced. I liked the introduction of Archer, a soldier of Daedelus and an unlikely ally, as well as the other plot twists (more like explosions) JLA threw at us.
The complexities of everything Daedelus - their plans, their technology - and how it all affects Katy, Daemon, and his family and friends proved JLA's prowess in crafting a riveting story. I couldn't help but notice the relevance of Daedulus' end-game goals and the similarities to some scientific issues facing the world today. JLA wove that in with everything else delivering an action-packed, suspenseful, socially relevant romance. Seriously. Awesome.
The appearance of some characters was heartwarming and some others was devastating. Gah! The secrets revealed, the battle fought, the lines drawn...and that ending! There was so much epicness packed into Origin. And I just know it's all eading up to and ending the greatness of which I can't fathom. So, so happy Opposition is already waiting on my shelf!