My To-Be Read List is a new meme hosted by Michelle @Because Reading. Michelle has been doing this for awhile and recently decided to extend the fun for us all. I thought it was a fabulous idea because it gets y'all in the game and it helps me knock off some of the many, many books on my TBR list. You're more than welcome to join in the fun! I've included the basic rules below but you can click on the graphic above to hop over to Michelle's site where you can find all the details.
Here's how it works:
On the first Saturday of each month, I will make a post with three books from my TBR List (these books can be already on your ereader or bookshelf OR books you might want to purchase) and add your link on the linky that will be provided on Michelle's post. Y'ALL will help me choose which book I will read next. The following Saturday, I will announce which book won. Then the last Saturday of the month, I'll post my review.
Thanks so much for voting! It was actually close between two of the books. But the winner is.... *drum roll*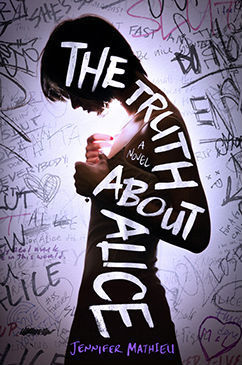 Everyone know Alice slept with two guys at one party.
But did you know Alice was sexting Brandon when he crashed his car?
It's true. Ask ANYBODY.
Rumor has it that Alice Franklin is a slut. It's written all over the bathroom stall at Healy High for everyone to see. And after star quarterback Brandon Fitzsimmons dies in a car accident, the rumors start to spiral out of control.
In this remarkable debut novel, four Healy High students - the girl who has the infamous party, the car accident survivor, the former best friend, and the boy next door - tell all they know.
But exactly what is the truth about Alice? In the end there's only one person to ask: Alice herself.