My To-Be Read List is a new meme hosted by Michelle @Because Reading. Michelle has been doing this for awhile and recently decided to extend the fun for us all. I thought it was a fabulous idea because it gets y'all in the game and it helps me knock off some of the many, many books on my TBR list. You're more than welcome to join in the fun! I've included the basic rules below but you can click on the graphic above to hop over to Michelle's site where you can find all the details.
Here's how it works:
On the first Saturday of each month, I will make a post with three books from my TBR List (these books can be already on your ereader or bookshelf OR books you might want to purchase) and add your link on the linky that will be provided on Michelle's post. Y'ALL will help me choose which book I will read next. The following Saturday, I will announce which book won. Then the last Saturday of the month, I'll post my review.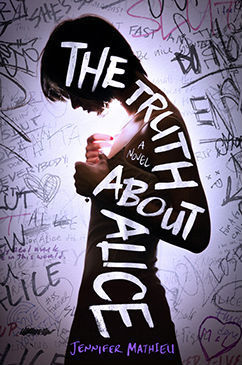 The Truth About Alice
by Jennifer Mathieu
Release Date: June 3, 2014
Genre: Young Adult, Contemporary, Realistic
Source: Roaring Brook Press via Netgalley
Rating: 4.5 Bookworms
Goodreads
Synopsis
Everyone know Alice slept with two guys at one party.
But did you know Alice was sexting Brandon when he crashed his car?
It's true. Ask ANYBODY.
Rumor has it that Alice Franklin is a slut. It's written all over the bathroom stall at Healy High for everyone to see. And after star quarterback Brandon Fitzsimmons dies in a car accident, the rumors start to spiral out of control.
In this remarkable debut novel, four Healy High students - the girl who has the infamous party, the car accident survivor, the former best friend, and the boy next door - tell all they know.
But exactly what is the truth about Alice? In the end there's only one person to ask: Alice herself.
The Truth About Alice is a very moving and realistic look at teen life. It also speaks to the power of words.
This story is told from four different POVs - all characters with varying degrees of interaction with Alice. There's Elaine, the head of the popular girl clique, who has a grudge against Alice over something from 8th grade. Then there's Josh, the star wide receiver who survived the car accident Alice supposedly caused. There's Kelsie, Alice's BFF, who was so quick to turn her back on Alice in order to ensure she kept her popular girl status. And finally, Kurt, the nerdy boy who was the only one to reach out to Alice when she most needed someone.
Alice herself is just a normal girl with a less than normal family. And she falls victim to nasty words and rumors.
This was a difficult story to read. I wanted to shake Elaine, Kelsie, and Josh on several occasions, but I remember being a teen. Heck I'm mom to two teen girls. And although I've taught my girls (all my kids, actually) compassion and right from wrong, ultimately their behavior is their choice. I'm not intimating that any of these characters had strong role models at home. And they live in a small, judgmental town. But they all seemed to realize what they were doing was hurtful and wrong. And yet they didn't stop.
There is one thing I've learned about people: they don't get that mean and nasty overnight. It's not human nature. But if you give people enough time, eventually they'll do the most heartbreaking stuff in the world.
I think this basically sums up this story. I choose to believe that Elaine, Kelsie, and Josh saw the errors of their way and lived differently. What I know is that words carry unbelievable power to hurt. And it's a hurt that can't be undone. But Alice's experience taught her an invaluable lesson about what's important in life.