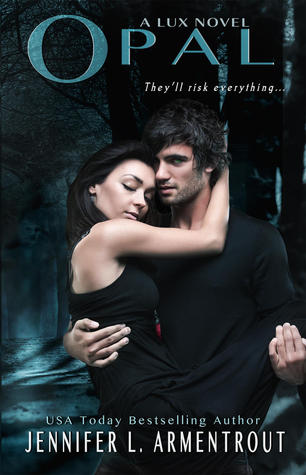 Opal
Lux Series #3
Release Date: December 11, 2012
Genre: YA Fantasy, Paranormal Romance
Source: Purchased Paperback
Rating: 4 Bookworms
Goodreads
Synopsis
After everything, I'm no longer the same Katy. I'm different... And I'm not sure what that will mean in the end. When each step we take in discovering the truth puts us in the path of the secret organization responsible for torturing and testing hybrids, the more I realize there is not end to what I'm capable of. The death of someone close still lingers, help comes from the most unlikely source, and friends will become the deadliest of enemies, but we won't turn back. Even if the outcome will shatter our worlds forever.
Together we're stronger...and they know it.
Dang it! That was quite the nail-biter. It's been awhile since I read Onyx but JLA pulled me right back into Katy and Daemon's world...a world fraught with danger, not knowing who is friend and who is foe. A world where they having to live every moment and hold tight to the precious good.
Things have changed dramatically for Katy, Daemon, and Dee. With the return of some characters and some events causing Dee to pull away from Katy, there's quite a bit of tension on all sides. One character's reappearance makes things look like they'll go from bad to worse. However, he has a deal to make with Katy and the Luxen. He can help them. But are they making a deal with the devil?
Opal was an exciting read, even if it felt maybe a little slow moving. JLA is a master at creating witty banter laced with sexual tension - and it's one of the things I adore most about Katy and Daemon. The suspense was also intense - woundering if and how things are going to work out. And that ending! Holy wow! I can tell you one thing - it won't be long before I'm reading #4!