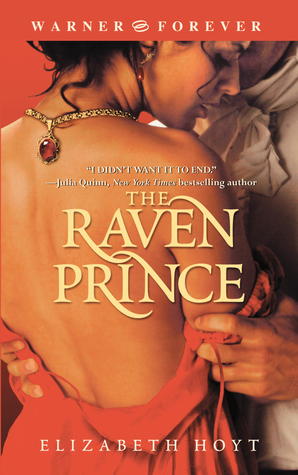 The Raven Prince by Elizabeth Hoyt
Princes Trilogy #1
Release Date: November 1,2006
Genre: Adult, Historical Romance
Source: Purchased on nook
Rating: 4.5 Bookworms
Challenges: Historical Romance Challenge 2015
Goodreads
Synopsis
There comes a time in a lady's life...
Widowed Anna Wren is having a wretched day. After an arrogant male on horseback nearly squashes her, she arrives home to learn that she is in dire financial straits.
When she must do the unthinkable...
The Earl of Swartingham is in a quandary. Having frightened off two secretaries, Edward de Raaf needs someone who can withstand his bad temper and boorish behavior.
And find employment.
When Anna becomes the earl's secretary, it would seem that both their problems are solved. Then she discovers he plans to visit the most notorious brothel in London for his "manly" needs. Well! Anna sees red--and decides to assuage her "womanly" desires...with the earl as her unknowing lover.
The Raven Prince was a delight! With its unconventional MCs and a finely crafted story wrapped around them, I was left feeling warm and happy at the end.
Anna, a widow and a respectable lady, has decided that she's tired of doing as society deems she should. Why should a lady not work as a secretary for an earl? Indeed, why shouldn't women be allowed to follow on all their desires?
Edward, Earl of Swartingham, has decided it's time he settle, once again, and try for an heir. Just as he's working out the details for a suitable fiancee, Anna comes storming into his life.
Oh, how I adored the repartee between Anna and Edward. They clearly enjoyed riling once another and their chemistry was palpable. All the circumstances swirling around them kept me on edge but I was thrilled with where it lead them. The things Anna did - bucking society's mores in the process - were so daring. That she let down her guard after what she'd suffered in her marriage made her giving Edward any trust a gift. Maybe Edward seemingly gave up far less but I felt as though his opening his heart was a major feat.
The secondary characters were a hoot as well. Mother Wren and her gentle meddling made me smile. And Iddesleigh and Davis made me laugh out loud in their brazen teasing of Edward. I came to cringe any time Felicity Clearwater made an appearance - she was such a...well, I don't know a nice word for her so I'll go with slut. At any rate, I'd be happy to see any of these characters again - even Felicity as long as she's getting her due. ;)
Hoyt's clever story and excellent pacing had me picking up my nook any chance I had. I look forward to reading more from her!