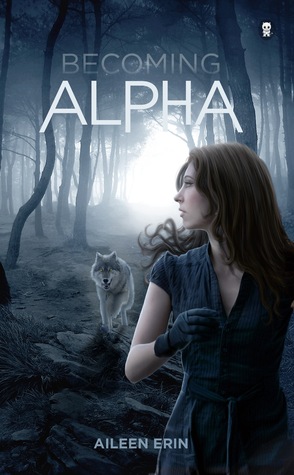 Becoming Alpha by Aileen Erin
Alpha Girl #1
Release Date: December 17, 2013
Genre: YA, Paranormal Romance, Fantasy
Source: Freebie
Rating: 4 Bookworms
Challenges: #COYER B2B, #ShelfLove
Goodreads
Synopsis
Tessa McCaide has a unique talent for getting into trouble. Then again, it isn't easy for a girl with visions to ignore what she sees. Luckily Tessa and her family are leaving California and moving halfway across the country, giving her the perfect opportunity to leave her reputation as "Freaky Tessa" behind.
But Tessa doesn't realize that kissing the wrong guy in her new Texas town could land her in far more trouble than she ever imagined. Like being forced to attend St. Ailbe's Academy, a secret boarding school for werewolves.
Even if the wrong guy did accidentally turn her into one of "them" and doom her to attending the weirdest high school eve, Tessa can't help her growing attraction to the mysterious Dastien Laurent.
When vampires attack St. Ailbe's and her visions pinpoint an enemy in their midst, Tessa realizes that boy drama and her newfound canine tendencies might just be the least of her problems.
Oh how I wish I could binge on this series right now! I'm thrilled I gave this story a go. It hooked me right from the beginning and I devoured it in one day!
Tessa, a recent transplant to Texas, is about to start her senior year. She has issues making friends but is trying to be optimistic. See, Tessa can't touch anyone or most anything - even the slightest brush - without getting visions. She's never even had a boyfriend because what girl wants to know, in vivid detail, the inner workings of a teenage boy's mind? When she first 'meets' Dastien, it's altogether different. And then some things happen and Tessa finds herself attending yet another new school - and this one has an exclusive student body.
That's really all I want to say about what happens in the book because I think it'll work best if it's experienced. As I said, I devoured this story. It has a unique setup and I really liked Tessa as a heroine. She's tough and resilient. I liked her relationship with her family. Her parents and her brother, Axel, are loving, protective, and supportive. And I also liked how things were set up at St. Ailde's. It was fascinating learning about the world Tessa now inhabits right alongside her. And watching as she grows more confident in herself and her abilities, as she's working at solving a mystery and then dealing with the fallout over solving it was exciting. I liked how Erin wove in more adult issues with some typical teenage ones - it gave the story a more mature tone.
My only gripe is that despite that mature tone, there is some angst caused by something that could have been solved with better communication. However, I really adored this story and I'm sorry I can't binge on this series right away. I do plan on using some holiday loot on the rest of the series and I will get caught up in it soon!