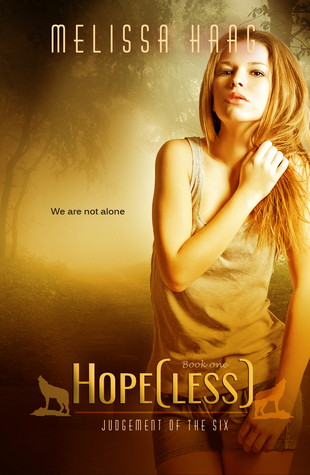 Hope(less) by Melissa Haag
Judgement of the Six #1
Release Date: November 18, 2013
Genre: YA/NA Paranormal Romance
Source: Kindle Freebie
Rating: 4 Bookworms
Challenges: #ShelfLove, #TakingControlTBR
Goodreads
Synopsis
Gabby's brain is like a human fish finder. It comes in handy when she wants to avoid people. Mostly men. They seem to like her a bit too much. It's lonely being different, but she's adapted to it. Really. She just wishes she knew why she is different, though.
In her search for answers, she discovers a hidden community of werewolves. She immerses herself in their culture, learning about their world until she meets Clay. He's unkempt, prone to mood swings, intense without saying a word, and he thinks Gabby is his.
It's going to take every trick she knows to convince Clay to go away, and every bit of willpower not to fall for him when she discovers the man beneath the rough exterior.
Judgement has begun...
Hope(less) started off a little slowly for me but about a quarter of the way in, I was fully invested and loving it. I think the slow start came from the world building - there were questions Gabby had about herself and then questions from me, created during her introduction into her new world - that of werewolves. The first part played into the mystery of the story and by the end, Gabby was beginning to get some of the answers she was looking for. The second part, I believe, plays into the overall story plotline and I am eager to see how it plays out.
Gabby has always known she was different. She has what she refers to as a 'second sight', where she can see the 'light' of people - not an aura - she can locate a person by their light like a sonar can locate a fish. She also has what she refers to as her 'pull' whereby males are oddly drawn to her. And now she's been made aware she's different in a whole new way, in relation to werewolves.
When she meets Sam, it's at a time when she's going to be needing to leave her foster home anyway, so Sam becomes her guardian - like a grandpa to Gabby - and initiates her into the world of werewolves. As part of learning to live in the world of werewolves, Gabby makes a deal with Sam in regards to finding a Mate. When her deal with Sam is about to expire, she meets Clay.
Clay is one clever wolf! I enjoyed getting to know him right along with Gabby. He's fiercely loyal, protective, and smart. He seemed to have known the way into Gabby's heart from the start. Gabby, for her part, took awhile warming up to Clay. At first, I didn't get it. But then, I realized that with her 'pull' what she most desired was having a choice in how her love life was determined. When males have always been drawn to you, the Mate pull would feel similar. But with Clay and his approach to Gabby, she finally found someone with whom she could confide in and be her true self around.
There was some tension and conflict via rules Gabby wasn't aware of, breach of trust, and the mystery surrounding Gabby's 'second sight'. It all meshed together well to create a compelling story. The only pacing issue was at the beginning and by the end, I was wishing I already had #2 downloaded. I'll return to this series soon as I'm eager to have all the answers promised and to see Gabby and Clay through to the end of their story.