During the month of February, the ladies @Chapter Break hosted a read-along of Colleen Hoover's Confess. Since I happened to have a copy lying on my bookshelf, I decided to join in. This was the first time I'd participated in a read-along and I discovered that I might just suck at them. ;) The book was divided into sections for each week, but I confess I finished in the second week. ;) And I also didn't share weekly updates - which would have been fun. Ahh...live and learn. So I thought I'd share my thoughts and my review of Confess with y'all anyway. Have y'all read it? I'd love to know what you think. :D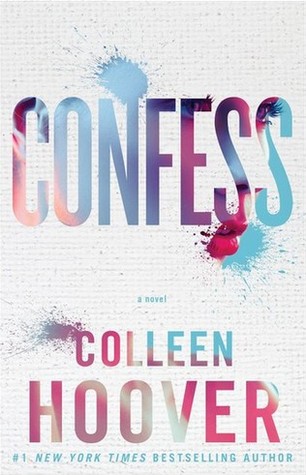 Confess by Colleen Hoover
Release Date: March 10, 2015
Genre: New Adult, Contemporary Romance
Source: Purchased Paperback
Rating: 4.5 Bookworms
Challenges: #ShelfLove
Goodreads
Synopsis
Auburn Reed has her entire life mapped out. Her goals are in sight and there's no room for mistakes. But when she walks into a Dallas art studio in search of a job, she doesn't expect to find a deep attraction to the enigmatic artist who works there, Owen Gentry.
For once, Auburn takes a risk and puts her heart in control, only to discover Owen is keeping major secrets from coming out. The magnitude of his past threatens to destroy everything important to Auburn, and the only way to get her life back on track is to cut Owen out of it.
The last thing Owen wants is to lose Auburn, but he can't seem to convince her that truth is sometimes as subjective as art. All he would have to do to save their relationship is confess. But in this case, the confession could be much more destructive than the actual sin...
Prologue - Chapter 6
I was crying in the prologue. I love my introductions to the characters with the exception of Lydia...as Lynn (Chapter Break) said, she can go jump off a short pier. Oh, and I'm not sure what I think of Trey - he feels creepy. And Emory - I hope to learn more about her. She's an interesting one. I have lots of questions about Owen and Auburn and I'm already invested in them.
I love that CoHo included art work in the novel. It's fantastic that she shares her passions with her readers.
Chapter 7 - Chapter 12
CoHo is definitely bringing the feels! My favorite scene in this section was the Target scene where Owen shared a treasured childhood memory with Auburn.
I'm developing my suspicions as to what Owen's hiding. I can't wait to see if I'm right.
Lydia is a total bitch. Once Auburn's secret is revealed, the depth of her bitchiness was revealed. Trey - is just completely creepy. He literally gave me the heebie-jeebies. And I hate that he's using Auburn's situation to control her.
Chapter 13 - Chapter 18
Lydia and Trey are despicable human beings. That's all there is to it.
Owen-Cat rocked! And I loved the fact that Owen trusted Auburn to take care of Owen-Cat, even if he might have had ulterior motives in doing so.
I was really upset with Owen following the arrest. He's behaving illogically but, at the same time I can understand the why behind what he's doing. Ugh!
LOL Meat dress! Y'all have to read it to understand. ;) Emory is a hoot!
Then Auburn does something that is out of character for her - but I felt was also reflective of her age. I was worried about the fallout and knew it was going to be good. And since I'd already read ahead, I put on my big-girl panties, got a box of tissues and settled in...
Chapter 19 - End
Ugh! Lots of wondering why...why is Trey a creepy douche? Why won't Auburn stand up for herself? Why won't Owen explain everything?
Yay for Auburn growing a backbone. Finally! And good for Owen for opening up.
The final showdown was a little too neat for my tastes but I liked seeing Auburn stand tall in any case.
And I also liked the epilogue where the final piece is revealed.
My final thoughts:
When I read CoHo, I can read confidently knowing I'm going to get:
a uniquely told story - whether it's music, poetry, or art, CoHo always brings a passion to the story that is refreshing

amazing characters - characters that are so well fleshed out they're 3-dimensional. They are real, sitting in front of you, sharing their story as any friend would

full spectrum of emotion - any story from CoHo is going to take your emotions on a roller-coaster ride - from belly laughs to ugly-crying, she knows how to wring every emotion from you
The only reason this wasn't a 5 Bookworm rating was the ending, which I thought was just too tidy. However, the story overall was incredible!