My To-Be Read List is a meme hosted by Michelle @Because Reading. I think it's a fabulous idea because it gets y'all in the game and it helps me knock off some of the many, many books on my TBR list. You're more than welcome to join in the fun! I've included the basic rules below but you can click on the graphic above to hop over to Michelle's site where you can find all the details.
Here's how it works:
On the first Saturday of each month, I will make a post with three books from my TBR List (these books can be already on your ereader or bookshelf OR books you might want to purchase) and add your link on the linky that will be provided on Michelle's post. Y'ALL will help me choose which book I will read next. The following Saturday, I will announce which book won. Then the last Saturday of the month, I'll post my review.
Fun, right?!?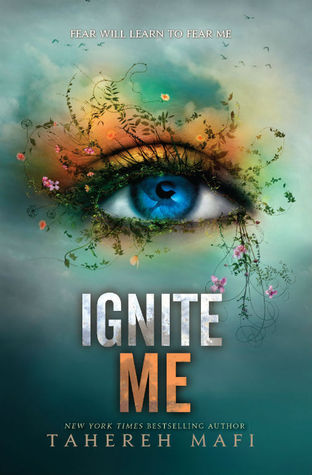 Ignite Me by Tahereh Mafi
Shatter Me #3
Release Date: February 4, 2014
Genre: YA Fantasy
Source: Purchased paperback
Rating: 4.5 Bookworms
Goodreads
Synopsis
With Omega Point destroyed, Juliette doesn't know if the rebels, her friends, or even Adam are alive. But that won't keep her from trying to take down The Reestablishment once and for all. Now she must rely on Warner, the handsome commander of Sector 45. The one person she never thought she could trust. The same person who saved her life. He promises to help Juliette master her powers and save their dying world...but that's not all he wants with her.
Holy WOW! What an ending! I've heard this book was rather polarizing but I obviously fall on the positive side of camp because I can't even fathom what was not to like.
I adored that Mafi explored the themes of self discovery and self-realization in this way. It's something every teen experiences, although not necessarily under such extreme circumstances. We all have differences in how we were raised, in our abilities, our fears, etc. And I think she also aptly described how things sometimes work out when people grow and change.

Mafi's prose is incredible, in my opinion. Her use of metaphor - particularly in reference to words and language - is genius. I kept having to stop and read passages to whoever happened to be close by.

Her characters are so well developed. Their personalities are so distinct and I felt their reactions - especially in certain situations - was so real. No, I may not have liked those reactions, but they felt authentic to me.

Mafi's depiction of how desolate the world could become sans hope, and how hope, even the tiniest glimmer of hope, can add so much vivid color to our lives was visceral.

Warner *sigh* I adore Warner. He said something about Adam maintaining his humanity when he couldn't and it made me sad to think that he couldn't see his own humanity - and happy that Juliette could.

I admired and adored Juliette as well, for reaching deep and finding her strength...for having the courage to become what she was meant to be, embracing it even.
I think that's all I want to say. I'm quite satisfied with how Mafi wrapped things up. And I'm eager to see what she'll come up with next.