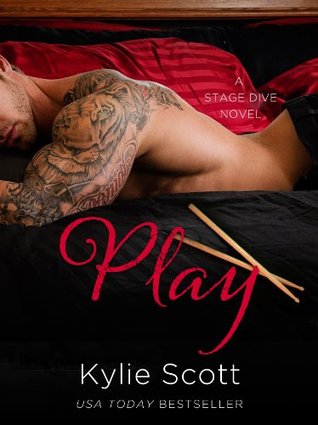 Play by Kylie Scott
Stage Dive #2
Narrated by: Andi Arndt
Release Date: April 11, 2014
Genre: Adult, Contemporary Romance
Source: Audible
Rating: 4.5 Bookworms
Goodreads
Synopsis
Mal Ericson, drummer for the world famous rack band Stage Dive, needs to clean up his image fast - at least for a little while. Having a good girl on his arm should do the job just find. Mal doesn't plan on this temporary fix becoming permanent, but he didn't count on finding the one right girl. Anne Rollins never thought she'd ever meet the rock god who plastered her teenage bedroom walls--especially not under these circumstances. Anne has money problems. Big ones. But being paid to play the pretend girlfriend to a wild lifeoftheparty drummer couldn't end well. No matter who hot he is. Or could it?
Play. What a great title for a book starring one deliciously talented drummer - the Mal Ericson. Mal plays at everything in life - living it to the fullest. But one thing - one major thing throws a curve ball at Mal and his days at only playing are done - at least for the meantime.
I fell for Mal's playful and wickedly funny self in Lick. It's a good thing I'd already fallen for him - knew he was a good guy - or else I might have held a grudge. Here's why: When he first meets Anne - watches her, listens, pays attention to her circumstances - he basically lectures her on being a doormat. And then he proceeds to take advantage of the very flaw he lamented her having. See?
But I
knew
Mal better - knew there must be something going on that would incite this behavior. I was
so
right. Then he went and melted me right along with Anne - who never really stood a chance against him anyway.
I adore Anne. I saw a lot of myself in her - a people pleaser, wanting to take care of everyone. She'd had a crap life but she's kept her chin up. She's had no stability in her life where it counted, so she does her damnedest to protect her heart. Finding herself in this weird situation with Mal, her resilience was evident as she just rolled with the flow. It was heartening to watch her blossom with Mal - figuring out how to finally take care of herself and that it could be done even while caring for others.
Mal has absolutely no filter. The things that fell out of his mouth. Omigosh!
"Hello, Anne's clitoris. It's me, Malcolm, your lord and master."
"Pumpkin, stop rubbing your ass against me. We gotta go! I don't have time to do you now. Prioritize woman."
He's crazy fun but he's deeper than the image he projects. Seeing Mal at such a vulnerable time in his life - seeing how this thing going on in his life could take the sparkle from his eye and zap all his playfulness - was heart-wrenching. Anne could make him smile. She could help him see the rainbow in a rainy day. Being witness to him realizing love was attainable for him, even though he made some colossal mistakes with Anne, made me fall for him ever harder.
Play is a contradictory title considering this installment was intensely emotional. I teared up a fair bit while watching the joker of Stage Dive meet his match. Mal and Anne did make me laugh though. They're good together - they make sense. They each need the other in their lives.
Andi Arndt continues to keep me listening every spare moment I have. Her delivery is spot-on, keeping the story, with all its humor and emotion flowing seamlessly. And her conveyance of Mal's voice is the best. I've already moved on to Lead and I'll be sad when I'm actually caught up with the Stage Dive boys.