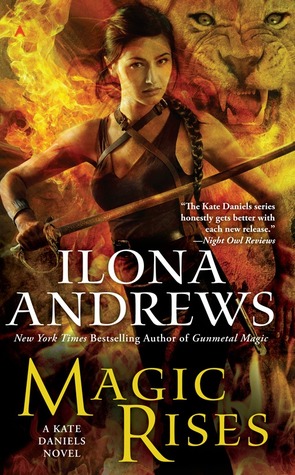 Magic Rises by Ilona Andrews
Kate Daniels #6
Release Date: July 30, 2013
Genre: Adult, Urban Fantasy
Source: Purchased Paperback
Rating: 5 Bookworms
Goodreads
Synopsis
Mercenary Kate Daniels and her mate, Curran, the Best Lord, are struggling to solve a heartbreaking crisis. Unable to control their beasts, many of the Pack's shapeshifting children fail to survive to adulthood. While there is a medicine that can help, the secret to its making is closely guarded by the European packs, and there's little available in Atlanta.
Kate can't bear to watch innocents suffer, but the solution she and Curran have found threatens to be even more painful. The European shapeshifters who once outmaneuvered the Beast Lord have asked him to arbitrate a dispute--and they'll pay him in medicine. With the young people's survival and the Pack's future at stake, Kate and Curran know they must accept the offer--but they have little doubt that they're heading straight into a trap...
It's been a few years since I read the Andrews - they welcomed me back into the Keep with open arms...and bared teeth.
Magic Rises evoked so many feelings, I thought I'd list them here.
I felt sadness over what the Pack was dealing with watching their kids go loup - and not being able to do a thing about it. I was sad and angry that the Pack was pulled into a trap with a cure being dangled as bait. And I was sad but mostly mad at Curran over behavior and my lack of understanding it for a large portion of the book.
I was saddened and angered that Kate was made to feel as though she'd never fit in the Pack - that no matter what she did, how loyal she is, how long she'd fight, some would never fully accept her.
I was shocked at who was behind the trap and all that went down after the reveal. I was surprised at some of the horrific things that occurred while the Pack was performing their duties away from the Keep. I was surprised at the many new creatures introduced and the mythology behind them.
I was shocked, horrified, and deeply saddened by certain events that happened at the direction of the one who set the trap as well.
The Andrews know how to deliver a well-crafted story. It was engaging and compelling. It was action-packed with incredibly choreographed fighting scenes. They inject just enough humor to keep me from wanting to curl up and cry. Their characters are exquisitely crafted, personalities crystal cut and clear. And their mythology and world building is riveting.
Magic Rises has it all! And I'm chomping at the bit to read the next installment. I can guarantee it won't be years in between.