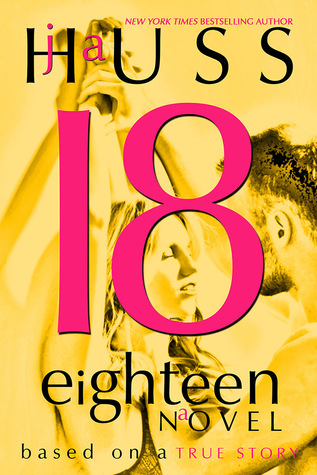 Eighteen (18) by JA Huss
Release Date: November 18, 2015
Genre: New Adult, Contemporary Romance, Taboo Romance
Source: I received an ARC in exchange for an honest review. I also purchased my own copy on nook.
Rating: 4 Bookworms
Goodreads
Synopsis
Eighteen is hard.
And so is Mateo Alesci.
He's hard to read, hard to predict, hard in every way that counts. He wants things from me.
Dirty things, nasty thing, forbidden things.
And I have to give in.
His attention is completely inappropriate, but I can't say no. The way he looks at me...the way he watches me through my bedroom window...the way he drags me deeper and deeper into his completely forbidden fantasy world just...turns me on.
He knows it turns me on.
He holds all the power. He holds all the cards.
He holds my entire future in his hands.
And I have to give in.
Because Mr. Alesci is my teacher.
And I need everything he's offering.
**Please note this is labeled as a taboo romance. If that's not your thing, you have been warned.**
JA Huss is one of my favorite authors. I never know what she's going to throw at me. I like that because I usually get something different and I'm always satisfied. With Eighteen, I knew something really different was coming my way. And although I had some difficulty with parts of it, Huss still left me feeling satisfied when I was finished.
Shannon has had a helluva life so far. In the last year, she's moved 3 times and lost her sister. When we meet her, she's celebrating her 18th birthday by having a mini-meltdown in the counselor's office where she's just been told she needs several more credits in order to graduate on time. I admit it took me a little while to connect with Shannon. Her woe-is-me attitude, along with getting high to escape the woe (we actually never see her get high - she only talks about having done it in the past) was bothersome. But I did come to understand her attitude. She lives with her jerk of a brother-in-law and her infant niece - the only living relative she has left. She's been struggling with life for awhile having lost her mom and then being dragged around the country by her older sister, who was given custody of her. There's not a lot to be happy about. But she does have a few people who look out for her - a friend at school, her counselor, and then she meets her new math teacher, Mr. Alesci.
Mateo Alesci is gorgeous, smart, and funny. He's bossy but caring and kind. He knows how to teach math to Shannon in a way that really works - even if it's completely unconventional. (and one I'd not approve of being used on my daughters) But I had some issues with him. It wasn't that he was 28 and clearly attracted to his student - Shannon's 18 and legal. It wasn't exactly that he seemed to have been stalking her. And it wasn't that he had interesting proclivities. It was more that, once they began a relationship, he ruled. He didn't always allow Shannon to think or decide things for herself which contradicted his assertion of her intelligence.
The reason this is a 4 Bookworm rather than a 3 Bookworm rating is that Huss somehow got me completely invested in both Shannon and Mateo and I was pleased to have been a part of their emotionally maturing journey. Because that's what I experienced. I got to witness Shannon grow and change - pull her shit together and become an adult. I watched Mateo change - realize what he had and that in order to keep it, he had to loosen this hold - actually let go - and allow Shannon the time she needed to figure out what she wanted and choose how she'd get there. So yeah, incredible character growth. And it's something Huss is superb at conveying.
Then there are a couple of supporting characters that rocked their roles. Huss gave Shannon the support she needed in Mr. Bowman, her counselor, and Sunday, a boy from school - people who genuinely cared about her and were there for her when she needed them the most. The kind of people you'd hope all kids have in their lives.
Eighteen was interesting - not what I was expecting. But Huss has a way of always delivering a much deeper story than what appears on the surface. So even though I wasn't immediately enamored with Shannon or Mateo, in the end I was completely satisfied.