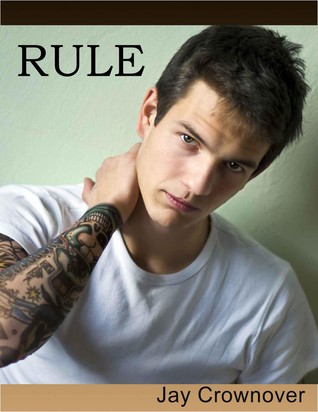 Rule by Jay Crownover
Marked Men #1
Release Date: December 20, 2012
Genre: New Adult, Contemporary Romance
Source: Kindle Freebie
Rating: 4 Bookworms
Challenges: #COYER B2B, #2016HW, #ShelfLove
Goodreads
Synopsis
Opposites in every way...except the one that matters
Shaw Landon loved Rule Archer from the moment she laid eyes on him. Rule is everything a straight-A pre-med student like Shaw shouldn't want--and the only person she's never tried to please. She isn't afraid of his scary piercings and tattoos or his wold attitude. Though she knows that Rule is wrong for her, her heart just won't listen.
To a rebel like Rule Archer, Shaw Landon is a stuck-up, perfect princess--and his dead twin brother's girl. She lives by other people's rules; he makes his own. He doesn't have tie for a good girl like Shaw-even if she's the only one who can see the person he truly is.
But a short skirt, too many birthday cocktails, and spilled secrets lead to a night neither can forget. Now, Shaw and Rule have to figure out how a girl like her and a guy like him are supposed to be together without destroying their love...or each other.
Jay Crownover has been on my *must read* list for quite awhile. After having met her at two different book events, she moved ahead in my queue because she's funny as hell and she lives here in Colorado. Finally...finally, I read Rule, the first in Crownover's Marked Men series, and I found she really knows how to deliver a story.
Rule revolves around two damaged, flawed characters, Rule and Shaw. Rule has spent his whole life blazing his own path, while Shaw always did what she was told and was always found lacking. The only solace and love Shaw ever felt was with Rule's family. Shaw's been in love with Rule since she met him and Rule's been loving every girl he could.
I liked how Crownover brought these two together - both originally and in the present. They each carry around so much baggage it's amazing they can walk. When they're together, sparks usually fly and not always int he good way - at least initially. The dynamic between them was...interesting. At first, Shaw is just trying to keep his family togehter. Then - and I suppose it'd always been this way - she was trying to prove to Rule that he was worthy of love. Eventually, Rule made a mission of showing Shaw she was enough just as she was. And it wasn't always pretty but it was lovely to see.
So this is New Adult - so the usual elements are present. However, I liked what Crownover brought to the table with this story. It was unique and had an added element of danger and suspense. Both Rule and Shaw showed a lot of emotional growth and that was fantastic. Crownover also introduced an incredible cast of supporting characters, all of whom get their own books in this series. I can't wait!
I was very impressed with Crownover's debut. She wrote a story I was loathe to put down and showed a lot of promise. I'm looking forward to reading more from her backlist.