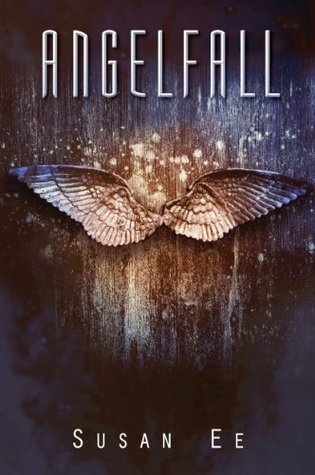 Angelfall by Susan Ee
Penryn and The End of Days #1
Release Date: August 28, 2012
Genre: YA Fantasy
Source: Purchased paperback
Rating: 4.5 Bookworms
Goodreads
Synopsis
It's been six weeks since angels of the apocalypse descended to demolish the modern world. Street gangs rule the day while fear and superstition rule the night. When warrior angels fly away with a helpless little girl, her seventeen-year-old sister Penryn will do anything to get her back.
Anything, including making a deal with an enemy angel.
Raffe is a warrior who lies broken and wingless on the street. After eons of fighting his own battles, he finds himself being rescued from a desperate situation b a half-starved teenage girl.
Traveling through a dark and twisted Northern California, they have only each other to rely on for survival. Together, they journey toward the angels' stronghold in San Francisco where she'll risk everything to rescue her sister and he'll put himself at the mercy of his greatest enemies for the chance to be made whole again.
Seriously. I'm kicking myself for hoarding this one. I've had Angelfall since it was first published - in paperback because it wasn't available electronically and it sounded so good I couldn't pass it up. So what the?!? Yeah, kicking myself...
Ee does an incredible job at depicting a post-apocalyptic world - the destruction, the fear of the survivors, the courage of those survivors. She conveyed the determination that human beings would have to take back their world and punish those who would dare try to take it. She painted scenes to provoke consideration of humans' perceptions of angelic beings, examining the politics within angelic ranks. And she beautifully portrayed the bravery of a young woman doing whatever she had to do to save not only her family but someone who she should consider her enemy.
Penryn has overcome so much in her short life and she's more than proved her mettle. Raffe is a little more enigmatic but I hope to learn more about him. The only reason this isn't a 5 Bookworm read is that there was a point in the story that dragged a bit, for me. Otherwise, the pacing was perfect.
I'm anxious to know more about what the angels are doing, what the resistance has planned next, and how Penryn and Raffe will fit in the new world order.