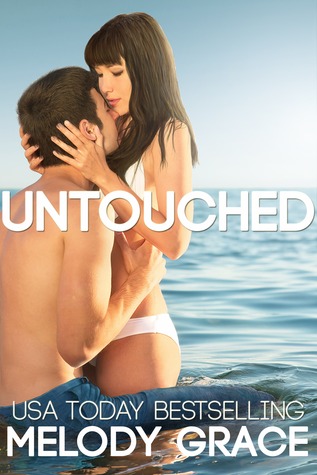 Untouched by Melody Grace
Beachwood Bay #0.5
Release Date: May 14, 2013
Genre: New Adult, Contemporary Romance
Source: Amazon freebie
Rating: 3.5 Bookworms
Challenges: #ShelfLove 2015, #COYER
Goodreads
Synopsis
Emerson Ray is trouble. Juliet knows it the minute she lays eyes on Beachwood Bay's resident bad boy. Forced to spend her summer before college in the sleepy beach town, she never expected to crash into the most devastating guy she's ever met--or for Emerson's blue eyes to strip through her dark secrets, and make her feel a desire she's never known. Their connection is undeniable, but Juliet is torn. She knows, once she gives him everything, there'll be no turning back.
Juliet McKenzie is dangerous. Emerson can tell from the way she blows through all his defences, laying bare demons he's carried along all his life. He's left a trail of broken hearts and empty beds in his wake, but Juliet is different. Her innocence is intoxicating--and the passion she keeps hidden, just below the surface. He wants to be the only one to set it free, but with every kiss, he's closer to losing control and doing the one thing he swore he never would: fall in love.
One summer. Two damaged hearts. Their story is only just beginning...
Untouched
is a prequel novella to the USA Today Bestselling Unbroken. It also can be read as a stand-alone story.
This was my introduction to Ms. Grace and although I had a few issues with the story, I'm eager to continue along the path with Juliet and Emerson.
Juliet is spending her last summer before college in Cedar Cove with her family. She has issues with her parents and is looking forward to starting fresh. Until she meets Emerson. He's the local bad boy an dhas family issues of his own. But these two have this magnetic pull on one another that can't be ignored.
I liked that both Juliet and Emerson had familial issues in common - something they could both relate to. They're both strong and mature for their age - they've had to be - because of the things they've dealt with. They handle things differently - cope in different ways - though. Juliet has plans for college while Emerson seems to think he should simply fulfill what the town says about him.
The story is told in dual POV - a format I've come to love. While I thought Juliet's inner monologue had a bent toward the melodramatic, as I talked it over with my older daughter, I remembered that Juliet is only 18 and teenagers do have a flair for the dramatic. In any case, what Juliet and Emerson felt for one another was felt intensely and Grace definitely conveyed that intensity. I do wish there'd been a little more backstory on Juliet's family issue because I think that would have better illustrated how what she'd been through helped her understand what Emerson was dealing with. Knowing everything Emerson was feeling and experiencing, both at home and with Juliet, gave the story more depth. Although, there were a few inconsistencies where his family was concerned.
Overall, I enjoyed this story. I found Juliet and Emerson's personal stories compelling and their relationship was as well. I am anxious to know what comes of their summer romance.