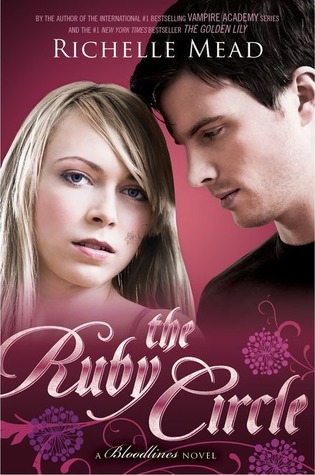 The Ruby Circle
Bloodlines #6
Release Date:
Genre: YA Paranormal Romance
Source: Purchased Hardcover
Rating: 4.5 Bookworms
Goodreads
Synopsis
THEY WILL BE TESTED
Sydney Sage is an Alchemist, one of a group of humans who dabble in magic and serve to bridge the worlds of humans and vampires. They protect vampire secrets - and human lives.
Their forbidden romance exposed, Sydney and Adrian find themselves facing the wrath of both the Alchemists and the Moroi in this electrifying conclusion to Richelle Mead's bestselling Bloodlines series.
When the life of someone they both love is put on the line, Sydney risks everything to hunt down a deadly former nemesis. Meanwhile, she and Adrian becomes enmeshed in a puzzle that could hold the key to a shocking secret about spirit magic, a secret that could shake the entire Moroi world and alter their lives forever.
Don't miss their unforgettable final chapter...
LOVE WILL CONQUER ALL
The Ruby Circle is a solid ending for the Bloodlines series. Mead incorporated all the elements she's known for - intrigue, action, mythology, and romance - and tied them all together to render an exciting and satisfying story.
As I said in my Silver Shadows review, I admire the way Mead takes details, from over the course of the series, that a reader might think inconsequential and uses them to create drama and bring everything full circle. Having the entire cast, so to speak, only enhanced my enjoyment. They all joined forces to find Jill and figure out what the Alchemists were up to. There was magic and drama and swoons. I will admit to starting into this a little dismayed with Adrian once again. But he once again proved why he's so lovable. There was on thing Mead left unanswered where Adrian is concerned but it didn't take away from the story.
What I enjoyed most about The Ruby Circle, and Bloodlines overall, has been watching Sydney and Adrian grow as individuals. Sydney was so set in her strict and conservative Alchemist ways that it was heartening to see her open her mind, to use her gifts, and love openly. Adrian was this pompous Moroi royal and, okay, so he didn't lose all his pompousness...this is Adrian we're talking about...but he also opened up, displayed his vulnerabilities and grew into a much more responsible and mature young man.
So, obviously I liked how things ended even if I didn't want things to end. However, I was thrilled to see in the acknowledgements that Mead said we haven't see the last of these characters. And she reiterated this at RT when I spoke with her about it. She said there's nothing definite but that these characters refuse to leave her head. I said "Woohoo!"