Part of the reason I put Out of Breath on my Reading Assignment list is because I was so moved by the first 2 in the trilogy but hadn't finished it despite owning the last one! I created the Traveling to the Terminus feature last year in an attempt to encourage myself to catch up on series I've fallen behind on. ;)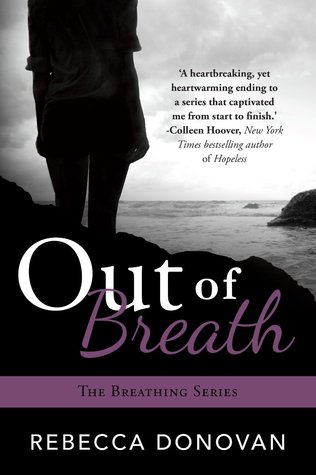 Out of Breath
Breathing #3
Release Date: July 2, 2013
Genre: New Adult, Contemporary Romance
Source: Purchased paperback
Rating: 4.5 Bookworms
Goodreads
Synopsis
Emma leaves Weslyn and everyong in it behind to attend Stanford University, just as she always intended. A shell of her former self, she is not the same girl. She is broken, and the only way that she'll be whole again is through forgiveness. Emma must find a way to forgive herself and recognize her own worth before she can receive the love she deserves. This final installment will have readers holding their breath until the very last page.
I will do my very best to not share anything spoilery since this is the final book in the series.
I first read Reason to Breathe waaay back in 2012 and Barely Breathing shortly thereafter. I had to go back and consult my notes on specifics before starting Out of Breath but I can tell you that Emma's story, overall, is one that has stuck with me. To say it is an emotional one would be a gross understatement. The feelings of pity, terror, sympathy, horror, hope, and love - yes, they run the gamut - weren't so easily forgotten. In Out of Breath, Donovan took me right back to all those places. And she left me feeling overwhelmingly hopeful for Emma and Evan.
Emma Thomas is a young woman who was handed a rotten deck of cards in life. She's suffered traumatic loss, unfathomable abuse, and hate - all at the hands of people who should have loved and protected her. She's always had a good friend and ally in Sara, but her life really changed when she met Evan Mathews.
Evan is a young man with a plan. He is never without a gameplan - knowing what's coming next - sometimes 2 and 3 steps ahead. Emma throws a monkey-wrench in all his planning as she never does what he's expecting. However, he knows she's wroth any and all consequences. She sucker-punched him when she left.
Out of Breath takes place 2 years after the end of Barely Breathing. Emma is barely existing at Stanford and Evan is on the opposite coast. When something happens that sends Emma back to Weslyn, Evan can't keep himself from wanting to be there for Emma, to support her.
In Out of Breath, Emma and Evan try to answer the question "does love conquer all?" Can Emma learn to forgive herself, that being honest, while it can be painful, is integral to trust, and can she learn to believe she deserves to be loved? And can Evan forgive Emma for her decisions and for having taken away his choice?

Donovan delivers a powerful conclusion to Emma and Evan's story, along with all the feels. I found myself caught up in Emma's inner turmoil and sympathizing with her. I also appreciated the parts of the story told from Evan's POV. It helped me understand how intense his feelings for Emma are and the lengths he's willing to go to for her. The only thing I hoped for but didn't get (although the subject was broached) was Emma seeking professional help but I choose to believe she did.
Donovan kept me riveted throughout and left me hopeful and satisfied with where Emma and Evan landed. This series deals with some very tough topics but it's done with aplomb. Donovan has a gift, and gave readers one with Emma and Evan. I eagerly await what she releases next.
There's so much I want to say about this book - how my heart ached for Emma and Evan, how my spirit soared as well. Their's is not an easy or simple story, but it's an incredible read nonetheless.