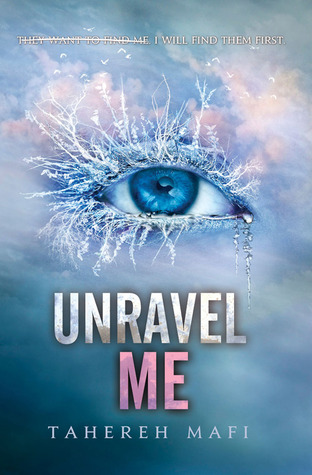 Unravel Me by Taherah Mafi
Shatter Me #2
Release Date: Genre: YA Dystopian/Fantasy
Source: I purchased a paperback
Rating: 5 Bookworms
Synopsis
tick
tick
time for war.
Juliette has escaped to Omega Point. It is a place for people like her - people with gifts - and it is also the headquarters of the rebel restistance.
She's finally free from The Reestablishment, free from their plan to use her as a weapon, and free to love Adam. But Juliette will never be free from her lethal touch.
Or from Warner, who wants Juliette more than she ever thought possible.
In this exhilarating sequel to Shatter Me, Juliette has to make life-changing decisions between what she wants and what she thinks is right. Decisions that might involve choosing between her heart - and Adam's life.
Wow! Unravel Me was an excellent followup to Shatter Me. It has a slightly different feel - mainly because we aren't reading Juliette's journal - but the story is even more exciting and is told in Mafi's exquisite prose.
In Unravel Me, we see Juliette working with Omega Point - training and trying to learn more about and how to control her gift. Along the way, Juliette's relationship with Adam evolves in unexpected ways. We see her begin to make attempts at friendship with others. And she's still thinking of Warner. (*swoon*)
What makes this story amazing is that Mafi creates this stark world - a world heading toward war, with characters set in their belief that their way is the right way - this suspenseful, exciting
fantasy/dystopian
story, and wraps it around very important lessons. It's incredible that Mafi weaves lessons on learning to love and accept yourself...that it's our differences that make us special. And lessons on not judging others based on preconceived notions. Juliette suffered horribly because of people judging her and then she did the same thing to Warner.
I was so offended and upset on Juliette's behalf. The people of Omega Point treated her no differently than anyone ever has. And Castle - he tells her she's selfish - not trying to make friends or fit in. I couldn't wrap my head around his not understanding that she's had 17 years of no love, no friends, no compassion, no touching. How would she even know how to go about making friends?
It was an incredibly awe-inspiring thing to witness Juliette mature - accept herself and decide to use her gift in a way she chooses. She had to endure even more pain but she made some decisions on her own, stood up for herself. Good stuff!
Mafi also throws in some twists and turns in the plot that were very unexpected and yet made things so clear. I don't what to say much about Adam and Warner to avoid being spoilery. Y'all know I have a thing for Warner and my feelings grew even deeper in this installment.
I cannot wait to read Adam's novella and Ignite Me! I need to know how it all turns out. I only wish I could read them NOW! :)