Teaser Tuesdays is a weekly bookish meme, hosted by MizB of Should Be Reading. Anyone can play along! Just do the following:
•
Grab your current read
•
Open to a random page
•
Share two (2) "teaser" sentences from somewhere on that page
•
BE CAREFUL NOT TO INCLUDE SPOILERS! (make sure that what you share doesn't give too much away! You don't want to ruin the book for others!)
•
Share the title & author, too, so that other TT participants can add the book to their TBR Lists if they like your teasers!
***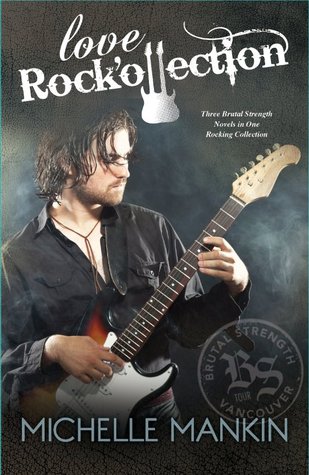 The Brutal Strength Rock Star Trilogy, Books 1-3
New Adult, Contemporary Romance
Three full length rock star novels in one limited edition set.
Love Evolution is a rock star romance based on Shakespeare's Twelfth Night.
After the death of her twin brother, nineteen year old guitar prodigy Avery Jones finds herself desperate, alone, and out of options. Hope arrives in the form of a job opening with Brutal Strength, one of the biggest rock bands out there. Only problem is temperamental lead singer Marcus Anthony doesn't want a woman in the group. So Avery and her manager Trevor come up with a plan involving a Bieber haircut and men's clothing. No one seems to be onto their little con. But what happens when Avery starts falling for Marcus? Will she be able to continue with the farce or will the whole thing come crashing down around her like a house of cards?
(Revised and additional content, including 2 new chapters and an epilogue)
Love Revolution is a rock star romance inspired by Shakespeare's Much Ado About Nothing.
The wheels of love are always turning at Black Cat Records. Things are just starting to settle down when two Texas sisters start to stir things up at the Vancouver record label. CEO Mary Timmons sets spirited country superstar Sara Daniels on a collision course with cocky rocker Chris Alex. Meanwhile, Brutal Strength's suave drummer, JR, has his head turned by pretty young intern, Samantha Daniels. Do all their highways lead to happiness or will the wheels fly off when the sisters' tragic past comes back to haunt them?
Love Resolution is a rock star romance inspired by Shakespeare's The Tempest.
To forgive or not to forgive...There's a storm brewing at Black Cat Records and lead singer Marcus Anthony and guitarist Avery Jones are at the center of it. Brutal Strength is leaving Vancouver and heading out on a big stadium tour with the reprobate rockers from Tempest as their opening act. Avery is forced to deal with a troubling figure from her past while being pursued by Tempest's tatted bad boy, Bryan "Bullet" Jackson. Meanwhile, Marcus must battle his own internal demons as well as this rival for Avery's affection. Can Avery and Marcus keep their fairy tale happily ever after together when the prevailing winds of the real world are against them?
***Teaser ~ from Love Revolution***
I'm totally cheating with the 2 sentences rule this week...

"Had way better," she lied, relieved that her voice came out sounding even, "like kissing your grandpa."

Chris raised a brow. Without taking his eyes off of her, he pushed away from the table. "Yeah, a little disappointing for me too, Sweetheart, but it's for charity so I won't embarrass you and ask for a refund."