Welcome to my first
Revisit & Reminisce
. This was totally inspired by
Braine @Talk Supe
's
Flashbook Friday
. But since these reviews will be sporadic and probably won't always post on Fridays, I came up with a different name. Essentially, I want to review books that I read prior to blogging - or books I read since blogging but didn't review for whatever reason. I'm
revisiting
them and
reminiscing
. :)
I first read Thoughtless back in the summer of 2012. I wanted to go to The First Ever Indie Conference in Chicago but since I couldn't, I challenged myself to read a book from every author that was attending. I chose to re-read Thoughtless because I'm participating in 25 Days of Book Boyfriends, hosted by Readers Live a 1000 Lives, Lovin' Los Libros, and Starbucks and Books Obsession, and I chose Kellen Kyle as my boyfriend. (my post goes up on the 10th)
One thing I wanted to note was that the version I read is from 2011. It could have used more editing to take out things like overuse of a particular word or too much detail, but it was an indie. It's since been picked up by Gallery Books and I'm certain it's been edited. At any rate, the story outweighed the need for editing. :)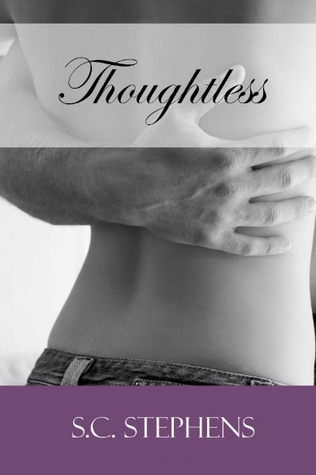 Thoughtless
Thoughtless #1
Release Date: June 11, 2010
Genre: New Adult, Contemporary Romance
Source: Purchased ecopy from B&N
Rating: 4 Bookworms
Goodreads
Synopsis
For almost two years now, Kiera's boyfriend, Denny, has been everything she's ever wanted: loving, tender and endlessly devoted to her. When they head off to a new city to start their lives together, Denny at his dream job and Kiera at a top-notch university, everything seems perfect. Then an unforeseen obligation forces the happy couple apart.
Feeling lonely, confused, and in need of comfort, Kiera turns to an unexpected source - a local rock star named Kellen Kyle. At first, he's purely a friend that she can lean on, but as her loneliness grows, so does their relationship. And then one night everything changes...and none of them will ever be the same.
Thoughtless is a tender, angsty, touching story of growing up - growing apart, and growing together. It delivered the element of New Adult that I adore - maturing as you find your place in the world. If you hate love triangles and all that they might imply, this book is not for you. But if you enjoy a story where the characters make mistakes but learn from them - eventually - and find that deep love we humans seek, this one fits the bill.
Kiera Allen has come halfway across the country to be with her boyfriend. It's a big step for a small-town girl. Kiera is insecure in many ways and meeting new people is challenging, so moving to Seattle is a commitment. One of the first new people she meets is her new roommate, and good friend of Denny's, Kellen Kyle. Kellen is a local rock star. He's gorgeous and flirty and sets Kiera's nerves on edge.
Denny Harris, Kiera's Aussie boyfriend, is beautiful, both inside and out. He's constant, safe, and would do anything to prevent Kiera from pain of any sort. He's such a good guy.
Kellen Kyle is just what you'd expect of a rock star. He's H.O.T., talented, moody, soulful, and a bit of a man-whore. He's got a past that haunts him - and just might explain his actions and insecurities. Oh how I love this man.
The cast of characters is rounded out with Kellen's bandmates, Evan, Griffin, and Matt, as well as Anna, Kiera's sister, and Jenny, a fellow waitress and friend. They all add depth to the story with their distinct personalities.
As I said, Thoughtless delivers in the maturing of characters. Kiera is immature and selfish for much of the book. I allow her this because she is only 21, insecure, and inexperienced. Her relationship with Denny is largely built on the support and security he offers her. So when things heat up between she and Kellen, it's out of her realm of experience. Kellen is like a moth drawn to flame where Kiera is concerned. They certainly have chemistry. But even though they had that spark, their relationship is built around their friendship. However, things go awry, as these kinds of situations sometimes do, and trust is something they'll have to work on.
The journey Kiera, Kellen, and Denny take in Thoughtless is one fraught with intense emotion, passion, and ultimately powerful love. You can't help who you fall in love with - the heart wants what it wants - and it's usually when you least expect it that it happens. Kiera and Kellen's love story is a messy one - but one worth giving thought to.