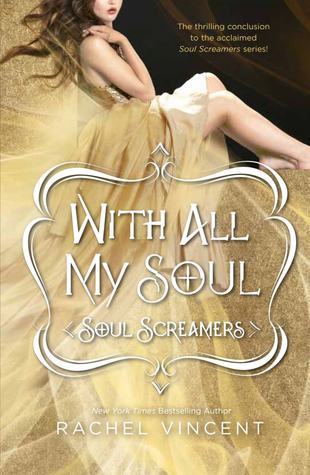 With All My Soul by Rachel Vincent
Soul Screamers #7
Release Date: March 26, 2013
Genre: Young Adult, Urban Fantasy, Paranormal Romance
Source: Purchased Paperback
Rating: 5 Bookworms
Challenges: #ShelfLove, #TravelingtoTerminus
Goodreads
Synopsis
What does it mean when your school is voted the most dangerous in America? It's time to kick some hellion butt...
After not really surviving her junior year (does "undead" count as survival?), Kaylee Cavanaugh has vowed to take back her school from the hellions causing all the trouble. She's going to find a way to turn the incarnations of Avarice, Envy and Vanity against one another in order to protect her friends and finish this war, once and forever.
But then she meets Wrath and understands that she's closer to the edge than she's ever been. And when one more person close to her is taken, Kaylee realizes she can't save everyone she loves without risking everything she has...
I put off reading this last book for a long time. A really long time considering I've had it in my possession, a signed copy no less, since May of 2013. But I adore this series and these characters and I didn't want to say goodbye. So I put it off. However, I'm happy to say that I couldn't be happier with this ending. If I had to say goodbye, at least Vincent made it worth my self-imposed wait. ;)
I think the bar was set very high for Vincent in wrapping up this series. We all love Kaylee and crew and were loathe to say goodbye. I'm sure it was difficult, wanting to make all readers happy but knowing that's an impossible feat. I, for one, am pleased with how things wrapped up.
With All My Soul finds Kaylee wanting justice - nay, vengeance - against the hellions who have taken so much from her. Before she can even formulate a plan, Avari strikes again. In attempting a rescue, Kaylee realizes she's going to have to sacrifice much more if she wants to end the hellions' reign of terror.
I love this entire cast. Okay, there are a few I just love to hate but still. The character development I've been witness to is heartwarming and incredible. They've each grown in some way, some more than others.
Vincent took a risk, I think, with the introduction of a new hellion and the repercussions of the lessons he teaches Kaylee. It was fascinating watching Kaylee, and a few others, learn more about themselves, figuring out what's most important in this life or the after-life in Kaylee's and Tod's case.
I appreciated the action Kaylee took - what she gave up - and the wiliness used in accomplishing it. And I appreciated how it all wrapped up. So even though I waited 3 years to read this because I seriously didn't want it to end, I'm satisfied with where all these characters ended up.