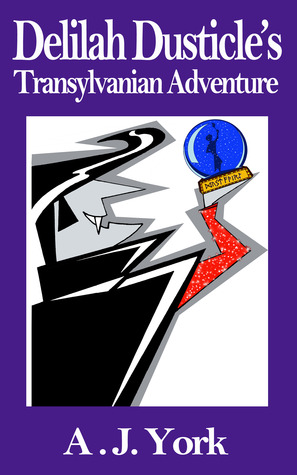 Delilah Dusticle's Transylvanian Adventure by A.J. York
Delilah Dusticle #2
Release Date: June 1, 2014
Genre: Young Reader
Source: I received an ecopy in exchange for an honest review
Rating: 4 Bookworms
Synopsis
Delilah Dusticle is back with an action packed mission. In this illustrated instalment, Delilah and the Dustbusters are invited to Transylvania to cater for the Hallow Eve Ball. All is not what it seems and Count Dracula has a very unusual request.
This is the second in a series of stories following Delilah and the Dustbusters on adventures around the world. Get ready to join the fun and experience the magic.
This is the second in the Delilah Dusticle series. If you missed my review of the first book, Delilah Dusticle, you can read it here. I found this second installment even more enjoyable than the first!
In this installment, Delilah and her friends are well established in their cleaning business. So well established that Delilah is contacted to make a special trip - to Transylvania and to the home of one Count Dracula. While visiting, Delilah learns a few things about herself - her history as well as her special abilities. Things that make her interesting to those who'd exploit her talents.
What I enjoyed so much about this second book was that Ms. York incorporated some history of World War II, and folklore such as that of Dracula and Irish folklore of the fae. All this made for a more exciting, action-packed tale, It was very interesting. I'm rather excited to see what's next for Delilah and her friends.