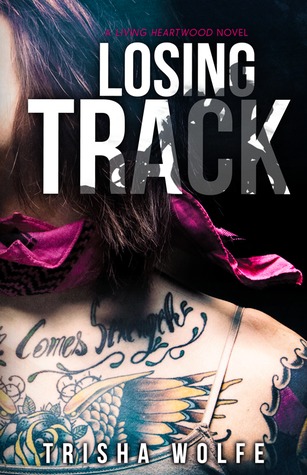 Losing Track
Living Heartwood #2
Release Date: October 15, 2014
Genre: New Adult, Contemporary Romance
Source: 99 Cent Purchase on Amazon
Rating: 4.5 Bookworms
Goodreads
Synopsis
Sometimes you have to lose your way before finding the right track.
The roar of a bike engine. The vibration between her thighs. The feel of cool darkness kissing her skin as she coasts along twisty back roads at night--Melody Lachlan lives for these things. Ever since Mel and her best friend Darla escaped their small, backwoods town, they've traveled the countryside in search of fast rides, tatted bikers, and good times.
A self-proclaimed poet and lover of all things free, Mel views her life as one long bike ride--with pit stops along the way to numb the pain. But she never saw herself as a junkie. Party as hard as you ride. That's her motto...until a tragic night steals her soul. Then she's forced to delve below the surface, to where her demons rage.
When she meets recovered drug addict Boone Randall, she's more likely to deck him than kiss his dimple-adorable face. She doesn't want his help; doesn't want to own up to her part in that night. She just wants to do her time and keep her promise to her friend. Yet Boone challenges Mel, and soon she doesn't mind sharing the road. Only when Boone's own secret demons threaten their newfound, fragile security, Mel's course becomes rocky, and she must decide if letting her well-worn track marks fade is worth finding a new path.
Told from Dual point of view from Melody and Boone, this is a New Adult Contemporary Romance intended for readers seventeen years of age and older.
Whereas The Darkest Part explored the lengths to which our psyches will go to protect us in grief, Losing Track explores the depths to which a person will sink in order to escape feeling anything, to avoid dealing with the pain of grief.
We met Mel in The Darkest Part. She's living life her way--part of the 1%--out on the open road. Never letting anyone tie her to a particular place. She's philosophical, the girl with all the answers. She's always had her best friend, Darla, at her back. When things change, Mel has to figure out who she really is.
Boone is suffering. He's preaching all about how to stay sober but can an addict ever truly recover?
One of the things I love most about this genre is witnessing these characters learn about who they are an dhow they fit in the world. Losing Track does just that but in a refreshing way. Wolfe uses substance abut in this case. Mel and Boone--they've both lost themselves--maybe never really knew themselves. Their reasons for choosing the self-destructive behavior seem, at first, due to reasons that are unclear. Why does anyone 'choose' to do drugs? They each continue on their destructive paths as a means to punish themselves, to atone for their perceived sins, and to just stop feeling. In each other, they found a kindred spirit--a person who understood them on a deeper level. Their meeting gave them each something they hadn't had in a long time--hope. And a reason to figure out who they are and why they're living. I think they also found forgiveness.
Losing Track wrung me out. The lives Mel and Boone lead are hard lives. Watching them lose track of where they were headed--even if they direction was only vague--was painful. However, seeing them get on track, taking things one day at a time was inspiring.
Wolfe's comparison of life to the heartwood of a tree is ingenious. Just as every tree's heartwood grows and shapes differently, so does every person's life. And as Boone said, it's our choice to do what we will with that life.
"Your choices are you own. You're responsible for your actions."
At once gritty and real while also achingly beautiful, Losing Track is a story that will stay with you. Wolfe creates such complex characters. I'm always eager to join them on their soul-searching journeys.