My To-Be Read List is a new meme hosted by Michelle @Because Reading. Michelle has been doing this for awhile and recently decided to extend the fun for us all. I thought it was a fabulous idea because it gets y'all in the game and it helps me knock off some of the many, many books on my TBR list. You're more than welcome to join in the fun! I've included the basic rules below but you can click on the graphic above to hop over to Michelle's site where you can find all the details.
Here's how it works:
On the first Saturday of each month, I will make a post with three books from my TBR List (these books can be already on your ereader or bookshelf OR books you might want to purchase) and add your link on the linky that will be provided on Michelle's post. Y'ALL will help me choose which book I will read next. The following Saturday, I will announce which book won. Then the last Saturday of the month, I'll post my review.
Fun, right?!?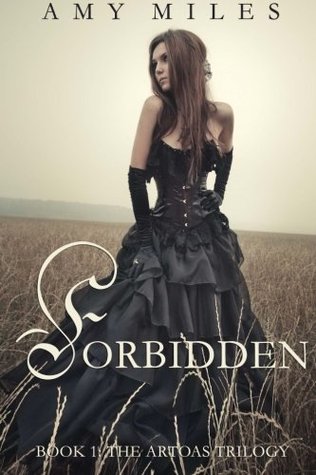 Forbidden
Arotas Trilogy #1
Genre: Young Adult, Paranormal Romance
Release Date: 2011
Source: Purchased ecopy from Amazon
Rating: TBD
Goodread
Synopsis
Roseline Enescue didn't ask to become an Immortal, to have all the guests at her wedding slaughtered, or be forced into marriage with a man whose lust for blood would one day ignite the vampire legend. Willing to risk everything for a chance at a normal life, Roseline escapes to America. Terrified her husband Vladimir will find her, Roseline enrolls as a senior in Chicago's elite Rosewood Prep schoo. Mingling with humans is the last place he would look for her. But her transition into the human world isn't easy. Mortal men flock after her while cutthroat girls plot her demise. Yet Roseline remains relatively unfazed by the petty hysteria until she falters into the arms of Gabriel Marston, reluctant MVP quarterback, unwilling ladies man, and sensitive artist in hiding. Troubled by the bond that pulls her towards the mortal boy, Roseline tries to ignor him, but Gabriel is persistent. As their lives entwine, Roseline begins to realize that Gabriel is much more than he appears. His ability to toss a football the entire length of the field and grind concrete into dust pales in comparison to the glowing blue cross tattoo that mysteriously appears on his forearms. Despite the forbidden bond between them, Roseline can't help wondering what Gabriel is: He's not human. He's not immortal. So just what is he?
Funny story...I didn't start Forbidden before heading to Texas for the Thanksgiving holiday. I thought...5 days of vacation? I can finish it, no problem. Well, between cooking, hanging with extended family, eating, shopping, etc., I haven't finished. *frowns & hangs head*
I can tell y'all I'm 73% through and I'm loving it.
I'll be in the car all day today heading back to Colorado. So m
y review will post to either later tonight or tomorrow, depending on what time I get home and how much I get read between having to drive and the sleepiness caused by motion sickness meds. :)
I'll also have Rafflecopter pick the winner of the giveaway.